While in 2017 financial markets largely ignored geopolitical risks, as they were more inclined to read the Goldilocks narrative, this mood now appears to be changing. In an environment that is already becoming more volatile, amid less accommodative central banks, demanding valuations, endogenous/technical new features of the market (liquidity deteriorating, crowded trades), a significant shift in fundamentals is not required to trigger market movement. A butterfly may do the trick.
At the time of writing, geopolitical events are dominating the news flow. These new tensions come at a time when trade frictions continue to be in the spotlight. On top of this, there are multiple hot political flashpoints. The first is the US/China relationship, where the focus is now on the practices in technology and intellectual property transfers. The second front relates to the US and Russia, given new sanctions and, most importantly, increasing tensions in Syria and instability in the Middle East. Regarding financial markets, the geopolitical noise is translating into frequent swings, inflows into perceived safe-haven assets (gold, sovereign bonds) and higher oil prices, with the consequence of added uncertainty in monetary policy actions. Central banks, in fact, are already facing the conundrum of how quickly to remove accommodation, as some recent economic data and surveys highlight some moderation of activity while inflation risk appears to be on the upside, potentially amplified by geopolitical and trade tensions. We see three key ways in which investors can navigate through this 'fog'. First is to keep a strong focus on the macro backdrop, separating noise from fundamentals.
Experts
Chairman of the Amundi Institute
Pascal Blanqué has been Chairman of the Amundi Institute and member of Amundi's General Management Committee and Executive Committee since February[...]
Read more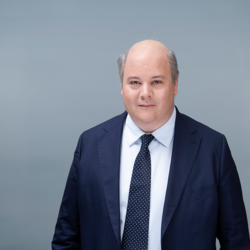 Group Chief Investment Officer
Vincent has been Group Chief Investment Officer and member of Amundi's General Management Committee and Executive Committee since February 2022. Previous to that, he has[...]
Read more
About Amundi
About Amundi
Amundi, the leading European asset manager, ranking among the top 10 global players[1], offers its 100 million clients - retail, institutional and corporate - a complete range of savings and investment solutions in active and passive management, in traditional or real assets.
With its six international investment hubs[2], financial and extra-financial research capabilities and long-standing commitment to responsible investment, Amundi is a key player in the asset management landscape.
Amundi clients benefit from the expertise and advice of 5,300 employees in 35 countries. A subsidiary of the Crédit Agricole group and listed on the stock exchange, Amundi currently manages more than €2.0 trillion of assets[3].
Amundi, a trusted partner, working every day in the interest of its clients and society
Footnotes
Source: IPE "Top 500 Asset Managers" published in June 2021, based on assets under management as at 31/12/2020
Boston, Dublin, London, Milan, Paris and Tokyo
Amundi data including Lyxor as at 31/03/2022